Wellness Post, 3/20/20, International Day of Happiness
Good Friday morning to you all,
I had the opportunity to communicate with many of you yesterday and while there is certainly adjusting going on for literally everyone right now (even our amazing Tech Dept. gurus!), my overall sense is that the first two days of distance learning have gone incredibly well – all things considered. I don't know about all of you, but just being able to see each other's faces through MS teams has significantly helped me feel less isolated and anxious. Now, that doesn't mean that I don't feel that way somewhat during the day, but having a sense of community with all of you seems to help tremendously.
I have 2 videos for you to watch today: the first is from Jen Rogers, our local Learning Specialist Yoga Teacher extraordinaire! Click on this link for a personal message from Ms. Rogers: I'm Still Here!
The second video is from our own personal motivational speaker/coach/PE teacher/comedian, Mr. Murray! Here is a link to his personal video: Murrayism 2
I think it will bring a smile to your face.
Thirdly, I have included this graphic to remind us all to try our best to focus on what we CAN control and to let go of what we CANNOT control in order to increase our happiness and decrease our anxiety.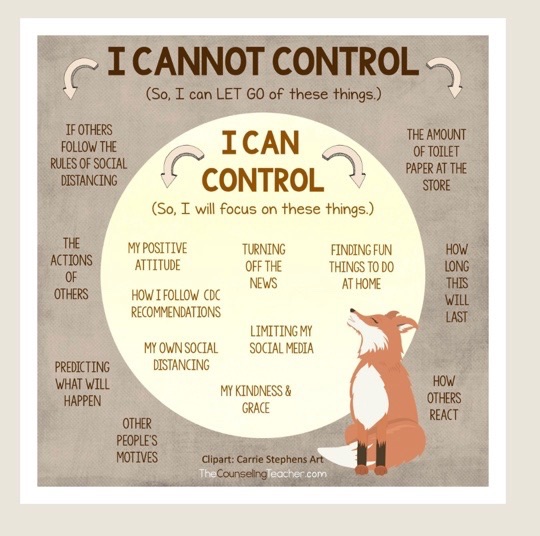 Last, but not least, today is Friday, March 20th, International Day of Happiness – www.dayofhappiness.net – KEEP CALM, STAY WISE, BE KIND. Today's Mindful March activity is to write down 10 things you feel grateful for in life and why. You might even want to start a daily gratitude journal!
As always, reach out to us if you need anything!
Mrs. Danser