Wellness Post, 3/26/20, Self-Care Part II
Good Thursday morning to everyone,
Continuing with the theme of self-care and ways to cope while we are staying at home, I have included a few more suggestions as well as a list of the things YOU submitted using the google form I sent out on Monday. Don't forget to check out Mr. Murray's latest video about wellness here: Murray'ism 4. And for those interested in exploring ways to help during this crisis, make sure to scroll to the last paragraph of this email. 😊
Get Out in Nature
Get outside during a sunrise or sunset (or both!)
Sit in a comfortable place outside and pay attention to sights, sounds, and smells

Challenge yourself to find:

5 things you can see
4 things you can hear
3 things you can touch
2 things you can smell

Garden or yard work
Take at least 2 walks a day outside (morning and afternoon)
Alone Time
Time with family is important
So is time alone
Find a comfortable space in your house or outside where you can be alone each day.
Use this alone time to take a break from screens and be in the present moment
Listen to your favorite music
Read a book for enjoyment
Relax (Check out Calm, Headspace, and Breathe – a few of many apps that help with relaxation)
Here are some of the ideas you shared in the google form yesterday in response to this question: What are some things you and/or your family are trying out to make working and learning from home more successful? What are some self-care activities you are trying that seem to be working?
Taking a walk outside every day and hiking on weekends (socially distanced, of course), Coach Babwah's Volt workouts, celebrating all good news in a larger than life way, and connecting to friends and family via FaceTime.
trying a new instrument. Playing outside. Walking dogs. Reading new book.
My family has been working out (walks, biking), having family dinners, and movie nights. We also have some time just for ourselves for watching Netflix and disney+ or doing work or other things like that.
My parents have put together a daily schedule, which includes chunks of time for work so we can all be productive. Then, in the late afternoon, we have always been taking a walk in the woods with our dogs. It's nice to get outside for a while after I've been stuck inside 🙂
We are taking regular walk breaks. We go for 30 minutes first thing in the morning before work/school gets started, we take another at lunch time, and then a longer one after work/school.
keeping a water bottle at my desk, showering in the morning
In addition to these things that are focused on us as individuals within family groups, I also wanted to suggest that connecting with something bigger than you and your family could also be very healthy and helpful right now. An Upper School student sent me a link to a 6 week challenge for 13-17 year olds from around the world to form virtual teams to develop technology-based solutions to slow the spread of COVID-19: https://www.nyas.org/challenges/combating-covid-19/?tab=overview. Another idea is to look into various mutual aid groups that are fundraising, connecting neighbors, and signing up volunteers to help get food and medicine to the most vulnerable who should not be out in public:https://indyweek.com/news/triangle-coronavirus-disaster-relief/. This Facebook group is specific to Durham, but there are many others that have formed out there: COVID19 / Coronavirus Mutual Aid in Durham, NC. If you find out about specific efforts that Upper School students, faculty and families might be interested in learning about or joining, please forward them along to me and I'll share them with everyone.
Last but not least, today's Mindful March activity is: Do something creative that absorbs your attention.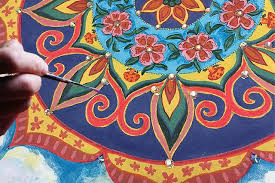 Be well everybody,
Mrs. Danser