Wellness Post, 4/20/20, The Smile
Good Monday morning to you,
Today I'm sharing some information about smiling. Smiling you say? Yes, smiling. 😊 But before I do that, please check out Mr. Murray's most recent wellness video. I promise it will bring a smile to your face: Murray'ism Eight
I find it interesting how my memory works. How things I haven't thought about in a long time will pop into my mind in certain situations and just suddenly make so much sense. This weekend I got a deep splinter working out in the garden. Being the wimp that I am, I asked Andy to pull it out for me. He was poised with tweezers in hand and my heart was starting to race when I remembered smiling meditation. I can't remember the last time I'd thought of or practiced smiling meditation, but there it was – popping into my mind – so I decided to go for it. I brought a half smile, rather than a big exaggerated smile, to my face and I paid attention to how my eyes and face felt as well as the instant mood shift from dread to feeling more calm. This helped tremendously with the experience of having the splinter yanked out. I have used this technique in the past when having blood drawn too. (Again, I'm a wimp) Apparently, smiling is used as a healing and meditation practice by many ancient cultures. Taoists have long believed that having a smile on your face and directing it inwards towards your organs and inner body is essential to good health and longevity. Balinese healers believe that a smile clears away negative energy and practice smiling meditation as a simple way to calm the mind and bring healing to the soul.
I was first introduced to smiling meditation in Dialectical Behavior Therapy (DBT), a form of cognitive behavioral therapy that is grounded in the principles of mindfulness. I taught DBT skills to high school students in the Chapel Hill-Carrboro City School system for 5 years and one of the Distress Tolerance skills of Accepting Reality was practicing the half smile, DBT Half-Smiling Exercises. Then I took an 8 week meditation class and one of the techniques that was shared was smiling meditation, which I learned the famous Zen Buddhist monk, Thich Nhat Hahn, had written a lot about:
Breathing in, I calm body and mind.
Breathing out, I smile.
Dwelling in the present moment
I know this is the only moment.
-Thich Nhat Hahn, Being Peace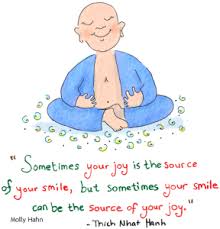 Apparently, there is a lot of science to back up this technique for those of you who are skeptical of it's validity. Check out this NBC News wellness piece that delves into the fact that "the mere act of smiling can lift mood, lower stress, boost your immune system and possibly even prolong your life."
Smiling can trick your brain into happiness – and boost your health
I'm going to leave you with a smile guided meditation by a well-known meditation teacher, Tara Brach. And then afterwards, you can watch Lady Gaga perform "Smile" in One World: Together at Home – a campaign rallying funds for the COVID-19 Solidarity Response Fund for the World Health Organization. I hope you enjoy both!
Smile Guided Meditation: Tara Brach
Be well and share your smile,
Mrs. Danser